Hello friends,
Yesterday at work, I got asked a random question. I kid you not, my coworker walked up to my desk and asked me, "Your home is on fire. Grab five items (assume all people and animals are safe — good because I have a fish tank lol) What do you grab?
Uhm… first thing I would grab is my important papers; birth certificate, social security card, etc. Second thing, would have to be… my books — my how to and some of my fiction books. Third thing would be, clothes, shoes and handbags — assuming that that's all one category. You can live anywhere but clothes accumulates so, I wouldn't want to have to buy everything again. Forth thing, my paintings. Some of which I painted, some of which I found. And fifth thing would be, my art and audio equipment, because I would hate to have to repurchase all that stuff again.
It's funny because I had to take some time to think about what items I would take. Even then, I live in a studio, so a majority of the stuff I said, is my whole apartment. Hopefully, by the grace of God, it's a slow burning fire and I have enough time to just pack up everything and move lol. Making it a little more difficult, though, if I had to pick one item from each broad category I said, that would be more interesting, so here it goes. First I would pick my safe — that's not going to change. Second, my books, which books? My kindle, Liars Game by Eric Jerome Dickey, whatever book I have in my handbag at the moment, Disappearing act by Terry McMillan, and Awkward Black Girl by Issa Rye. Third, clothes — all items; pants, shirts, undies, and socks. Forth, I'd tried to grab as much paintings as possible. Fifth, I know I said my arts and audio equipment but I would through everything into my art portfolio case and then bounce. Only because I would hate to have to replace everything, I don't have the time or the patience to do that. As a matter of fact, I think I might open some insurance after I post this, just in case. What are some of the things you would pick up in case of a fire? Comment down below five things.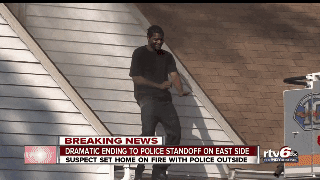 With Love & Sweetness,